Abebio exhibited at 2017 AACC Annual Scientific Meeting & Clinical Lab Expo
| | |
| --- | --- |
| Posted by star on 2017-08-11 10:58:17 | Hits:1278 |
The 69th AACC Annual Scientific Meeting & Clinical Lab Expo was held in San Diego, USA from July 30 to August 3, 2017. The president Shengjun Deng and two staff members of International Department in Abebio attended this event.
Abebios booth# 5000 was just near the entrance and attracted lots of visitors from many different countries around the world. They showed great interest in our ELISA kits and custom service. Some customers even visited us twice during the three days exhibits. It is great to communicate with our distributors face to face and know more about each other and the market. This is also a great opportunity to communicate with the visitors and exhibitors to learn about cutting edge technology and research hotspot.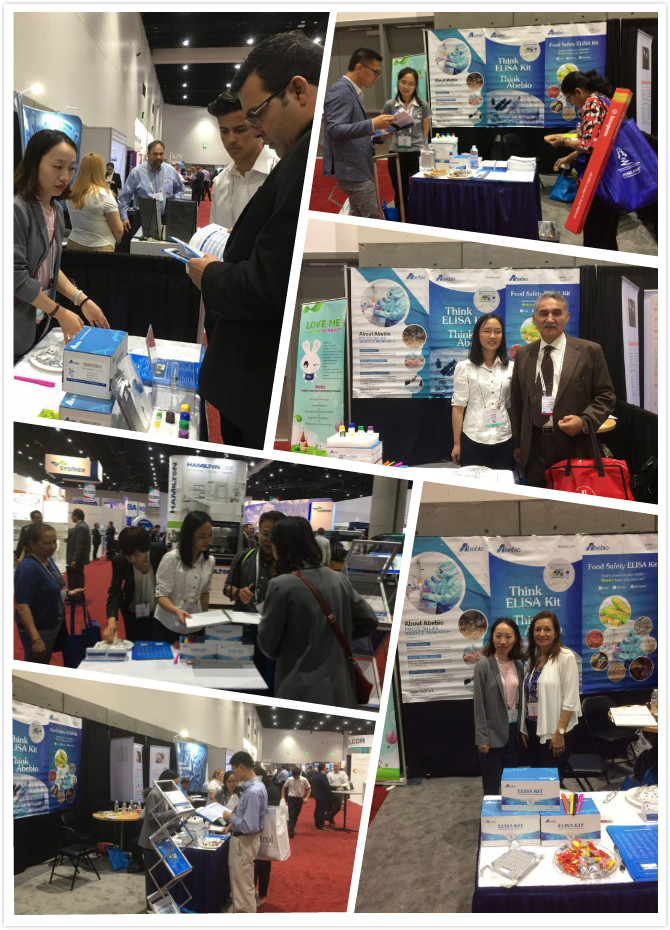 Through the 2017 AACC Annual Meeting & Clinical Expo, Abebio was brought to a larger professional audience. More people came to know Abebios products and service, which we believe will benefit our brand recognition as well as the global marketing exploration.
More than 21,300 laboratory medicine professionals and healthcare leaders had registered for this year's conference.2017 AACC featured 789 exhibitors and covered 246,000 net square feet, also making this the largest show floor in its history. The 70th AACC will be held in Chicago from July 29–August 2, 2018.
Address:
Wuhan Abebio Science Co.,Ltd
Room 708, Building 15, Hi-tech Bio-Agri, No.888 Gaoxin Avenue, East Lake High-tech Development Zone, Wuhan city, China
Phone:
+86-27-65523378
Fax:
+86-27-65523378
Email:
abebio@abebio.com