Treatment of chemotherapy complications
| | |
| --- | --- |
| Posted by star on 2017-10-24 11:46:39 | Hits:291 |
Vincristine is one basic part of acute lymphatic leukemia, lymphoma treatment. As one microtubule elongation inhibitor, it can combine beta tubulin and block the microtubule polymerization. Vincristine has very good effect on antitumor, but it is of high toxic and side effect as well. Its neurotoxicity will cause CIPN.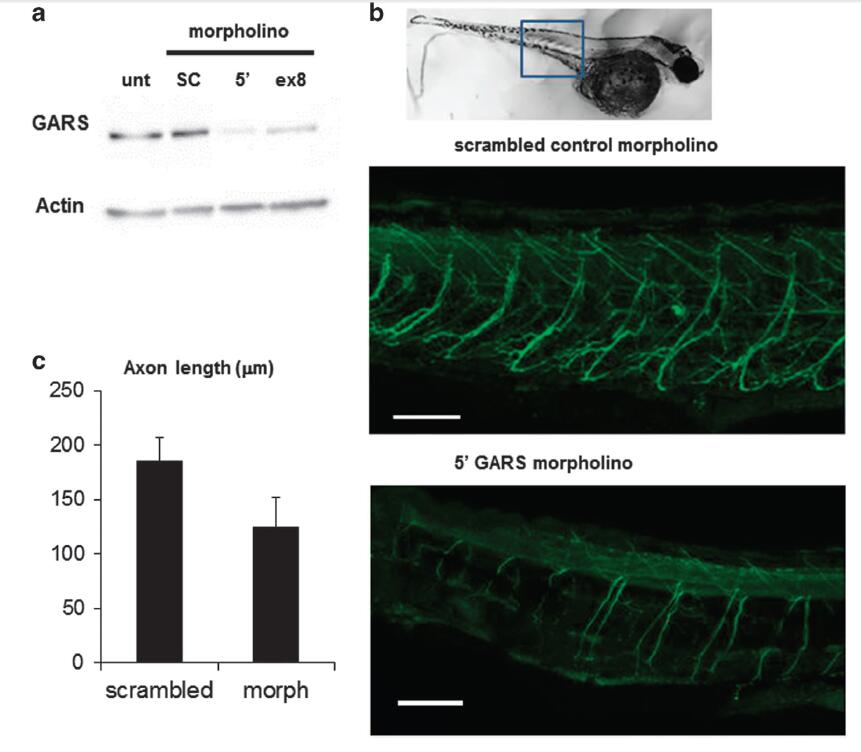 Charcot Marie Tooth is one very common hereditary peripheral neuropathy. The prevalence rate is about 1/1200-1/2500. Scientists found 10% of serious neuropathy patients caused by vincristine have family history.
The expressed region sequence between zebra fish and human is highly conservative, and its mRNA is 76% same as humans. Latest research found that the zebrafish exposed to vincristine may happen axon growth and dystropy.
If we can measure the acute effect of neurotoxic drugs through analyzing behavioral response of zebrafish larvae. We hope zebrafish model can be one rapid, cost efficient tool to study and cure CIPN.
In fact, the treatment principle is very simple. It just uses unique gene mutation to find symptoms of severe CIPN, then we can find rapid evaluation method in clinical. If we can block the expression of GARS protein, the zebrafish will happen axonal dysplasia. Integration with vincristine will speed up the treatment.
Address:
Wuhan Abebio Science Co.,Ltd
Room 708, Building 15, Hi-tech Bio-Agri, No.888 Gaoxin Avenue, East Lake High-tech Development Zone, Wuhan city, China
Phone:
+86-27-65523378
Fax:
+86-27-65523378
Email:
abebio@abebio.com